No Interest if paid in full in 6 months on purchases of $99+
We have partnered with Paypal Credit to provide you with financing offers to finance your solar panels, inverters, charge controllers and all the rest of PV components that we sell on our website. Financing starts at 0% APR if purchase is paid in full within 6 months!*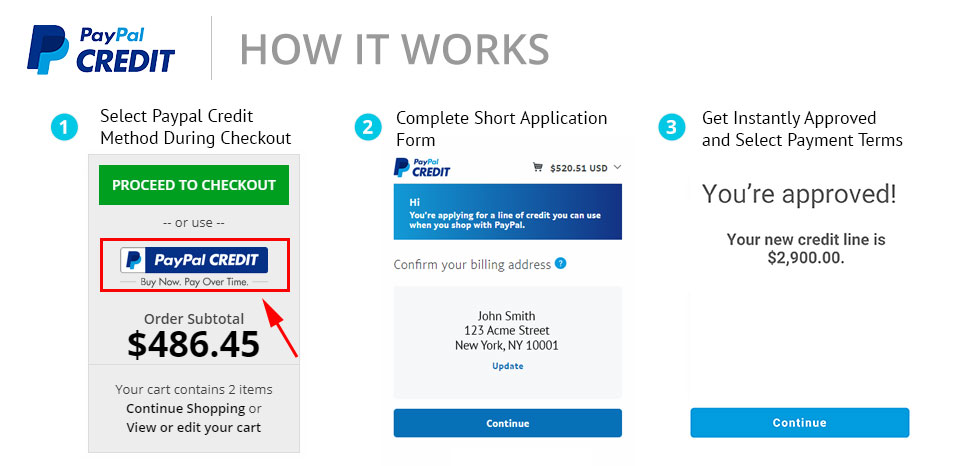 What is PayPal Credit?
PayPal Credit is an open end (revolving) credit card account that provides a reusable credit line built into your PayPal account giving you the flexibility to pay for your purchases right away or pay over time. It's easy to apply, easy to use and there whenever you need it. PayPal Credit is subject to credit approval and is offered by Synchrony Bank.
How do I apply for PayPal Credit?
When you apply for PayPal Credit, you'll be asked to provide your date of birth, your income after taxes and the last 4 digits of your Social Security number, and then to agree to the Terms and Conditions. You'll know within seconds if you are approved. And here's the cool thing: your PayPal Credit account will be linked to your PayPal account and you'll see it as a payment option every time you check out with PayPal.
Is there an annual fee to use PayPal Credit?
No! There is no annual fee to use PayPal Credit. See the Terms and Conditions when applying.
Do I have a Credit Line and how much will it be?
Upon approval, your PayPal Credit account will be assigned a credit line of at least $250 based on your credit worthiness.
What is the Annual Percentage Rate (APR)?
For New Accounts: Variable Purchase APR is 25.74%. The APRs are accurate as of 9/1/2018 and will vary with the market based on the Prime Rate (as defined in your credit card agreement). Minimum interest charge is $2.00. Of course, you can choose to pay your entire balance by the payment due date each month to avoid interest charges.
How does the "No Interest if paid in full in 6 months on purchases of $99 or more" offer work?
You'll have the option to pay No Interest for 6 months, on qualifying purchases of $99 or more. As long as you pay in full by the promotion expiration date, you will not be billed interest for that purchase. Minimum payments are required. If you do not pay in full, interest will be charged from the purchase date and will be billed to your account. You must pay in full to avoid accrued interest from the purchase date and you must make your minimum payment requirements to avoid late charges.
Can I finance any of your solar panels?
Although not all solar panels are sold on our website. Any product from solar panels to inverters, charge controllers, batteries and other components sold on our website can be finance using paypal credit if approved.