Hi John, John, you live in a glass tower, but out in the neighborhoods you can hear the generators buzzing after a hurricane has taken out the lights.  200 watts for the fridge and 50 watts for a ceiling fan and they've got those darn 3500 watt generators blasting away at 3600rpm.  Dumb.  Well, maybe not dumb, they just don't know any better. 
At my house, the ceiling fans have a slight buzz from the inverter in my backup power system, but I can't hear it because I have the windows open and hear those generators a quarter mile away at the neighbor's house.  Listening carefully, I can make out 3 or 4 of them.  Most are those loud, cheap ones from Home Depot or Lowes and most people don't realize that you have to change the oil in them every 25 hours (50 hours for the better ones with a filter).  That's an oil change every day or two!  Cheap air-cooled engines use a little oil, too. Do people buy a case of oil and some filters when they go out and buy 2 cans of gas in preparation for the storm? Nope.  
After about 3 days the generator will probably quit, assuming enough gasoline has been found to run it.  If it has a low oil safety shutoff, like most Hondas, the homeowner will scratch his head and wonder why the generator won't run anymore.  If he checks and adds oil, he will be back in business.  A lot of engines do not have the low oil shutoff and they will soon die a horrible death. 
That assumes, of course, that the owner bought enough gas to keep it running.  How long will 2 cans of gas run a generator?   Not that long.  Maybe a day, depending on model and load.  Try buying gas after a hurricane.  I know of exactly one gas station with a backup generator.  Some will have power and some will rig something up.  Back around 1960 I saw a gas station owner running a gas pump with a Maytag gas washing machine motor.  Yes, Maytag made gasoline-powered washers!  The owner took cash for the gas.  Who has cash today?  Credit card readers and ATMs don't work without power.  Oh, and every one of your neighbors will be in line with you, so you will be spending some time getting those two gas cans refilled.  Maybe you need more than two cans.
Don't think I am knocking gas generators, here.  What I am knocking is how they usually get used.
One of the most perfect home power systems ever made, made before power lines came to us country folks, was the Delco-Light power system.  Everything in the house ran on (usually) 32 volts DC.  When the batteries got low, you started the generator (some models started themselves) and it ran until it ran out of kerosene or gas (they'd run on just about anything) or the batteries were charged.  The engine was a low rpm machine that would run just about forever.  I have a half dozen of them and none are worn out.  Moreover, engines have an operating range where they are most efficient and that is with a good load on it.  A fridge and a ceiling fan do not load your generator at a  point of high efficiency and, remember, it takes a certain amount of gas just to buzz that thing along at 3600 rpm, even if there is no load at all. 
The Delco-Light power system.  One of these used to power my blacksmith shop.  I love their battery rack plan for those 2v cells.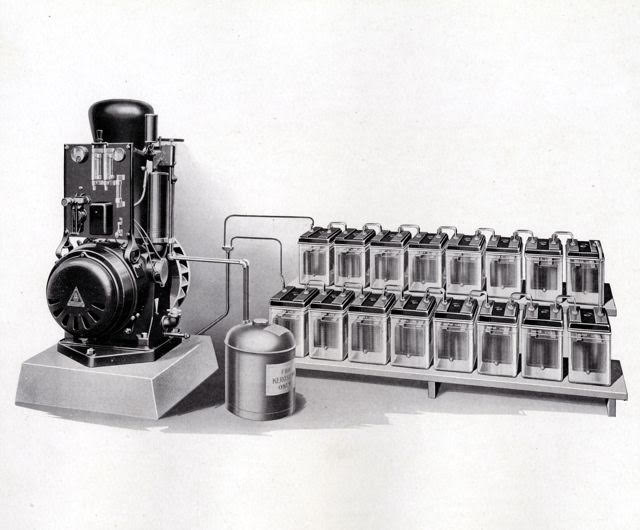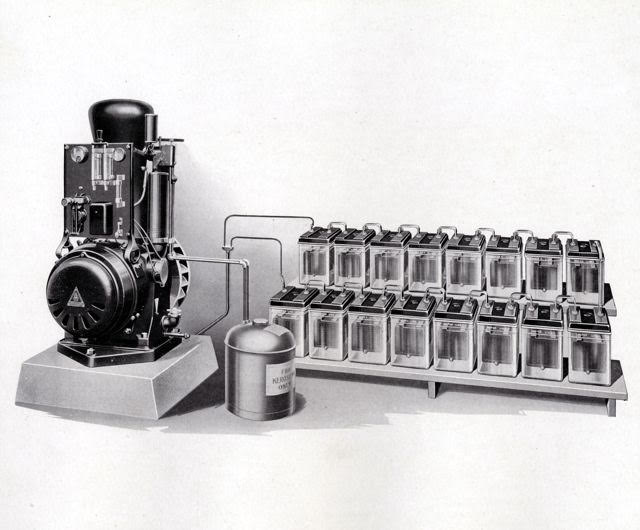 So why do I seem to be drifting off subject.  I'm not, I'm just setting the scenario for you to do a modern recreation of the Delco-Light to power your AC world, use less fuel and make the night a quieter place. 
Here's what you do.  Take appropriately sized inverter/charger, a bunch of batteries and add them to your generator.  (If you want to add in some solar panels, then good for you.)  You can have the inverter wired in through a transfer switch or you can put a plug on it and plug it where you would have otherwise connected the generator.  Now take the output of the generator and connect to the input of the inverter.  4 golf car batteries (I prefer 24v configuration, but 12v will do and your car can be the generator in a pinch) will run your lights and fridge for 24 hours.  There's probably enough power left over to fire up Mr. Coffee to wake you up and nuke something from Mrs. Stouffer's kitchen to fill you up.  Run the generator in the morning before going to work (or before you begin removing the tree from your roof) and again a bit in the evening, as needed, maybe even getting a little TV or A/C time in, too.  The generator will run under load and not for many hours.  Now you only have to change the oil every week and maybe the power will be back on by then. 
There is a security side to this configuration, too.  After Hurricane Katrina, many people in the city were afraid to show any lights and run the generator at night because predators would know where there was somebody with food, light and comforts.  The generators were ok in the day because there was lots of activity to mask the noise.  Do NOT run the generator in the garage…it will kill you.  If you don't want it stolen, chain it to the tree in the backyard when it is running and put it in the garage when it is not.  BTW, a padlock and a piece of chain should be considered a standard accessory if you buy a new generator.  DON'T refuel when it is still hot.  Buy some extra oil and get more than 2 cans of gas.  At the end of the season, put the gas in your car so it won't sit until next season and get stale.  No-alcohol gas is best and running the generator dry by turning off the fuel valve or just running the tank dry will save your carburetor from an early death.
Just some things to think about.g Update:  Michael went east of us and just made an awful mess from the coast up to Georgia.  Hopefully the rebuild will include solar, as happened with New Orleans after Katrina.  Unfortunately, some areas were so devastated there was nothing left for solar to power. 
John and I have been discussing options and strategies to have a stormproof shelter incorporated into your home. 
By Neal Collier