Last week, during my morning coffee and internet infusion, I read of a very large solar power plant being planned for Bureau of Land Management (BLM) land in Nevada. Then, this morning, I read about a 6.5 earthquake in Nevada. Man, it's always something going wrong, isn't it?  Then I heard Puerto Rico had one!
It just goes to show that normal, everyday conditions are not the only ones to plan for. Here in Florida, we don't get a lot of earthquakes. I recall a rattle or two, but nothing like the 1781 quake of 6.5 recalled by Chaplain Waldeck of the German mercenaries who were defending Pensacola from the Spanish at the time. That was enough to crumble chimneys and knock barracks houses off their foundations.
I wonder if there are special design considerations for solar in earthquake zones. Years ago, when I was providing management systems for distribution warehouses around the country, I notice that most had steel beams. However, in earthquake zones in California, Washington state and Alaska, the beams were wooden, because they would flex.
Most solar installations I have seen use galvanized steel posts or beams. Put a heavy mass of panels on top of that and the mass will try to stay fairly still while the poles take the shock and perhaps bend. I'm thinking there needs to be something springy or slidey involved in the mounting. I think I will look into seismic mounting to satisfy my curiosity.
Here on the Gulf Coast and up the East Coast, we have hurricanes. Forecasters were talking this week about a storm already forming and there was a weak swirling mass that went through Miami and is now crawling up the Atlantic coast as a tropical storm. Call those a warning. It is time to prepare NOW.
We have a long history of hurricanes here in Pensacola. Juan Tristan de Luna y Arellano and friends sailed into the bay in 1559 to set up a colony. A few weeks later they were holding onto trees for dear life while their ships were being bashed to bits in the shallows. Bienvenidos a Florida, amigos!
Despite this long history with hurricanes, people tend to forget the lessons. It has been maybe 15 years since we've had a good one, here, but we have had some whoppers on either side of us. Trees grow up along the powerlines and even a mild storm can knock the grid down for a while. Trees are tough on a roof, too. When hurricanes Erin and Opal came through, the stronger one did not cause as much damage as the first because the trees had already been taken out. The last big storm that came through was so strong it didn't need any help from trees because the power poles blew over. When Hurricane Michael came through just east of us, it blew pretty much EVERYTHING over.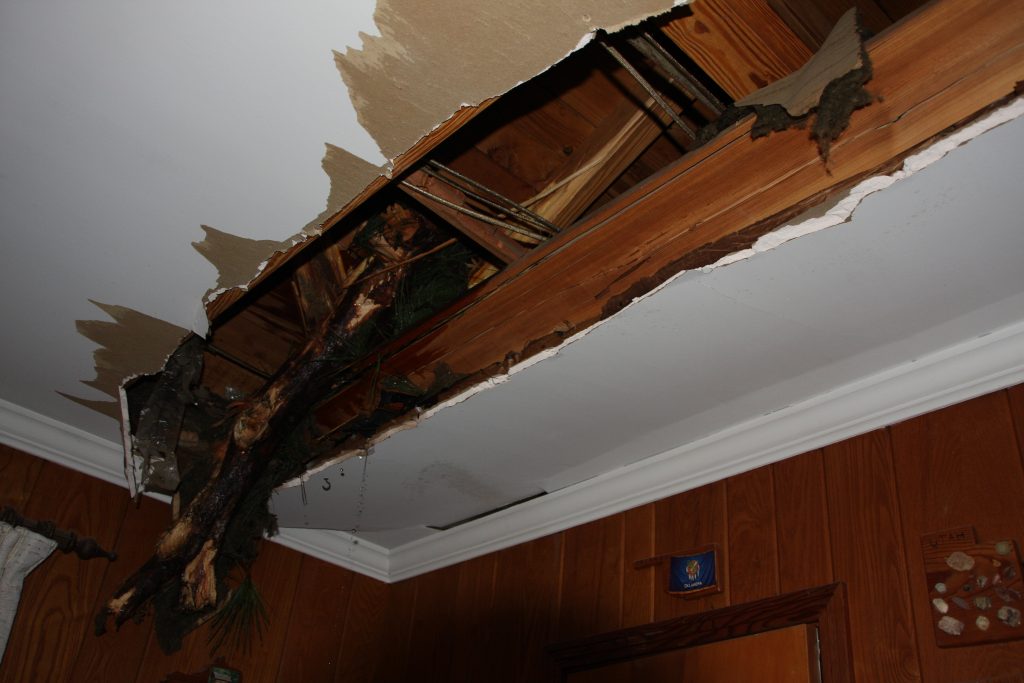 A battery backup system can help keep the lights on during and after a storm. The 2500 watt system I had back during the storms helped keep life fairly normal in the 5 weeks before the power company made it to our street. A daily top up of the batteries with the generator kept things going without the noisy generator running 24/7. NOW is the time to act if you are considering backup. John's guys already have some package plans, so it isn't a big deal to get moving on this. My house was wired for this from the beginning, but any good electrician can retrofit this stuff, if you can't do it yourself.
And what if you have solar power, already? Is it grid-tie-only or can it provide backup after the storm? A LOT of people who start out with grid-tie regret that decision when the grid goes down. There is equipment that will let you have it both ways! Maybe what you already have has an option you are not using. Check into it!
What about your precious solar array, assuming you have one? The Rocky Mountain Institute has a free report on what has been known to fail and what holds up against a storm. Find it. Read it. Essentially, use strong racks and use bolts instead of sheet metal screws.
In my own case, I know I have vulnerabilities. The solar shingles that Sun Electronics gave away are only rated for 60 mph. That worries me. That can be improved upon, but is way too much work. Additionally, I have a number of other modules on temporary racks. Steel stakes driven into the ground help anchor the wooden racks, but the panels are held on with screws. All of these panels I plan to remove and store in a safe place until after a storm blows over. Assuming Sun King, the solar boat, survives in its shed, it can come out and connected with the stored panels provide thousands of watts of solar input and its 5kw inverter can keep necessities running in the house. That's the plan, anyway.
What else can you do to plan? Have some water stored for drinking and maybe a plastic garbage can full to use to refill the toilet. Kitty litter and a 5 gallon bucket can serve as a toilet if there are unpowered lift stations involved. There are ceramic water filters, like the Berkey, that can clean up pretty much any water source or you can make a purifier with a ceramic filter kit from ebay and a couple of plastic buckets.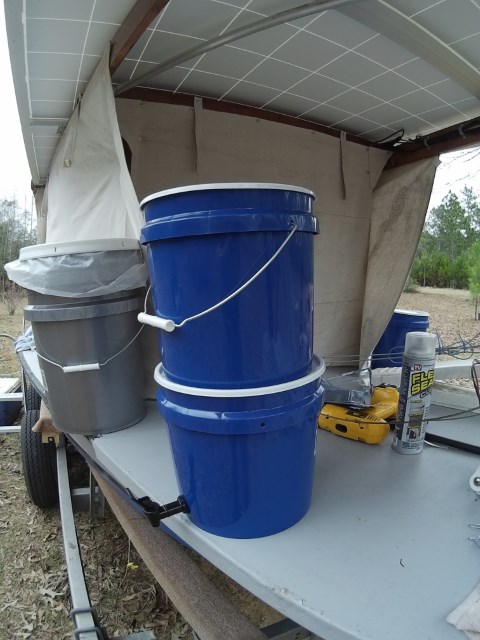 You need access to food. The virus situation has shown us how vulnerable we are there. Normally Walmart sells a 2 or three day meal package in the camping department. Sam's Club will deliver a one year supply for the whole family, but right now you have to get in line. There are many options for camp stoves, including those that do not require commercial fuel, but if you have backup power, a microwave and a coffee pot you can prepare all sorts of meals. Yes, you can make pancakes in a microwave, if you know the trick! A single "burner" induction plate would be a good tool in your emergency kit. (My bro was camping at my place last week and used one plugged into an inverter to make breakfast.) Commercial MREs don't last as long as the military stuff. I have cases of GI MREs dated 1984 that I would still eat in a pinch. Under normal circumstances, you could buy a big sack of beans and another of rice and be fine for a while. Cheap, easy foods seem to be in short supply, these days, but they can be found and it is best to set aside a bit for a stormy day.
You can't prepare after a storm and supply chains are already strained with the pandemic, so get busy!–Neal