The Alger-Sullivan Historical Society, in Century, Florida, has its annual Sawmill Day coming up May 6. This is our annual open house and fundraising event to help keep the museum complex afloat.  Membership dues of $5/year (if you can't afford that we can finance it for $1/month) just don't cover it all.
What does this have to do with solar?  If you've read all the blogs, you'll recall that I have mentioned work in our park before.  Solar solves a couple of problems we've had.    The park property was once the home of Edward Hauss, sawmill boss and the guy who ran the town for decades when the sawmill was active.  It was a gorgeous place.  When the property was donated to us as a home base, the house was gone and the grounds were a wreck.  As we thrashed our way through the jungle, we discovered portions of the formal gardens still intact!   The fountain was restored, which involved running water and electrical lines underground.
That was all well and good for a while, but adding things like handicap ramps to our Boxcar Museum and allowing festival vendors to drive in stakes pretty well decimated the underground utilities.  The fountain went unused for a while and when the blacksmith shop and gristmill were built, we needed lights in there.  Once I parked an inverter-equipped golf car behind the building and powered it from that.  That was hardly a permanent solution and I was not about to haul a car up every Saturday when the museum is open.  Another time I hid batteries in a dynamite box in the blacksmith shop.  Lugging 65 pound batteries was not fun.
Then Roberto calls up from Sun Electronics and says he has some oddball 6v panels John said he could send for me to play with.  Two went to the roof of the blacksmith shop in series and in the mill room a couple of Sun Elec's Sun 230 Lead Acid batteries were stashed in a meal box.  My junk box provided wire, a cheapo charge controller, fuses and such.  The building was wired for 120vac when built, but never connected.  I tied the batteries into that and replaced the 120v bulbs with 12v LED bulbs.  It is plenty bright and no inverter needed.  No inverter to forget and leave running.  Outside, a 12v LED tail light bulb was stuffed into a rusty old kerosene lantern and connected to the load terminals of the charge controller to give us a porch light.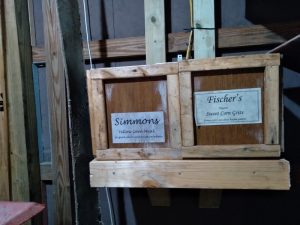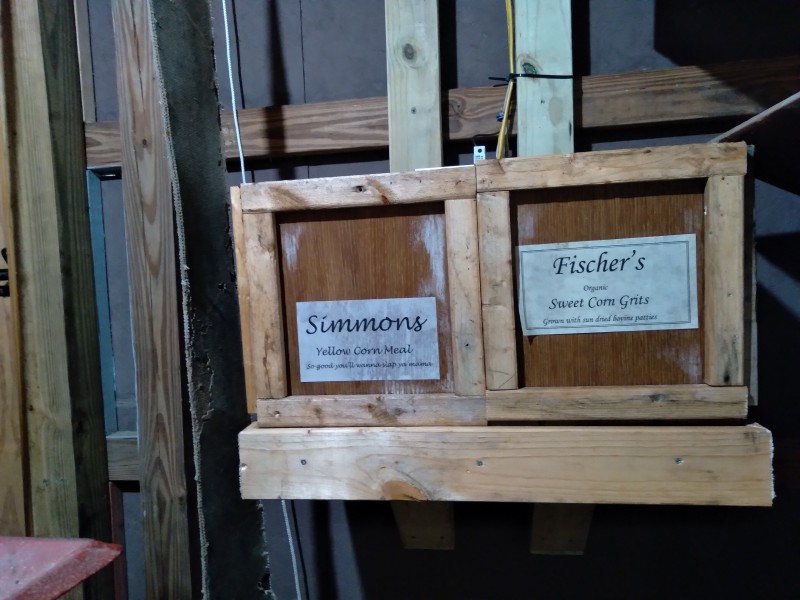 Two more 6 v panels, from a batch John was giving away (John gets a little crazy like that sometimes) to anyone who would come get them went up on the arbor of the fountain and connected directly to a 12v pump.  No charge controller and no battery.  The lion's head fountain was reborn.
Solar solutions.  But wait, solar does require a little upkeep.  With Sawmill Day upcoming, I took a look to make sure everything would be tip top for our special day.  First off, the panels on the blacksmith shop were crusted with the same yellow pine pollen that had coated my panels and trucks.  I figured the batteries were about to need water, too.   Over at the fountain, those panels were nasty, too, and the lion was sort of dribbling instead of spouting.   The water needed changing, too.  And the lattice work needed painting, too.  What had I gotten myself into?   I returned ready for action.
My window washer thingee quickly put the panels right, both at the shop and the fountain.  The batteries used nearly the whole gallon of distilled water I'd brought.  For a pair of GC2 batteries, that's getting low.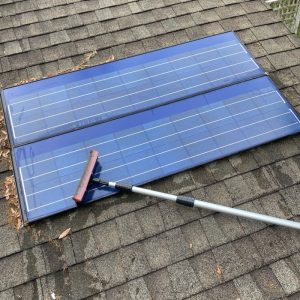 Cleaning out the fountain turned out to be a fool's errand because we eventually decided the lattice needed pressure washing and painting, which resulted in messing up the water again.  I'm as lazy as the next guy, but sometimes I just get myself into these things.  We don't have the budget to hire the work and our mean member age is probably 80, so those who can, do what they can.  Helen, Sandy, Barney and Jean's boys are doing yard work.  Sandy, Nicole and I are tackling the painting and we hope to have the place looking pretty spiffy come Sawmill Day.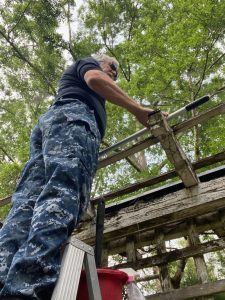 As for the solar power, we'll have lights and a fountain, things folks expect, and most will probably never notice that solar is quietly at work powering these features.–Neal
By the way, you can visit the Alger-Sullivan group page on Facebook to learn more about us.  If you like YouTube, sign up on our channel there and watch some of our videos.  We are hoping to build that up to become a source of income if we can get enough subscribers and views.  Member Zack has been finding all sorts of things to post.