I like wristwatches, especially ones with classic art deco styling. I quit wearing them when I had my hands in commercial radio transmitters a lot. Other people got away from wristwatches for a while, having their phone has an accurate timekeeper, but watches are making a comeback. They are becoming quite the investment, too.
If you have a Patek Phillipe Grand Complications Celestial model, you probably have your people work on your solar system. I leave the Girard Perregaux Gyromatic in the watch box when I am just knocking about, preferring one of my big Timex Weekender variants because I can see the contrasty face with my iffy eyes. Whatever is on your wrist, maybe it shouldn't be when you are working on your solar power, or any electrical equipment.
One of my pieces of safety equipment is a long screw on a low rafter, off to the side of my control panel. You could use a nail or, if you have a finished room, maybe something civilized like a Shaker peg. That's to hang the watch on, along with any rings or other metallic accessories you might have.
Whether it is a Timex or a Tourbillon, hang it up when working around power.
Getting a watch into solar string voltages will make for a real nice conductor, allowing you a fairly quick, if agonizing death. A 12v battery might well weld you into the circuit and give you an awful burn. The nylon or leather straps on two of my Weekenders make them smaller targets, but targets just the same. Getting into a 24v circuit with a Twist-o-Flex you might be able to save the hand if you are fast enough. The heavy stainless bracelet on my Wittnauer or my Lord Elgin in contact with a 48v circuit might well just burn the hand off as the band vaporized.
Sorry to sound so gory, but safety is no accident. In this case, prevention costs a couple of cents for a nail and a few seconds of your time. Hang up that Portugieser and get to work!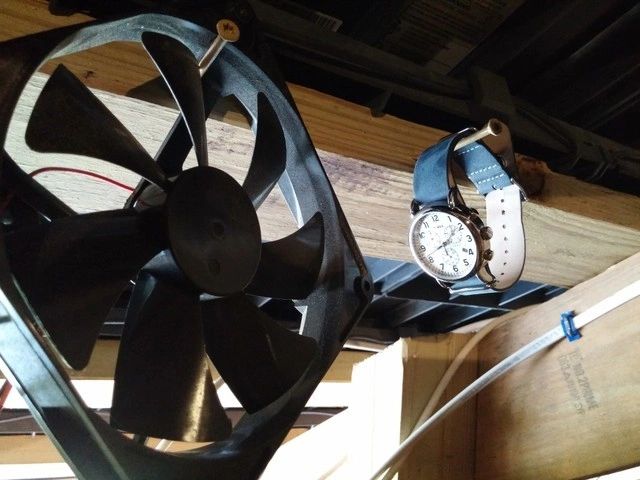 By: Neal Collier