I never thought I'd be happy about a tropical depression starting to spin up in the Gulf, but it has been really, miserably and mind-numbingly hot around here and the rains have helped in that department.  We've topped 100 degrees for days, usually hitting 103-105 after lunch.  It has been so hot that I have been wearing welding gloves to handle modules I am remounting.  Of course, inside the Solar Shed, it is even hotter and even the a/c out there is no good until I get some insulation.
Fortunately, that temp is within specs for all of my gear, but I know the fans and capacitors will last longer if I can make it run cooler.  Further, since it has temperature sensing that cuts back the wattage to keep the temperature down, running cooler will put more watts back into my batteries.
I have some charge controllers I am evaluating for John to possibly carry and they have built in thermometers.  The display was showing 57C, which is right at 135F for Americans.  The charge controller has a fan and the entire aluminum case is designed to dissipate heat, but it was hot to the touch and the fan was always running.  The thing is, the entire back, over 1/3 of the surface area, was pressed against the wooden mounting panel, effectively insulating it.  Why not mount charge controllers on standoffs?  A drilled piece of rod, a stack of washers or a slice of old broomstick with a hole down the middle would each make a dandy standoff.  I had some aluminum heat sinks I found on ebay that may or may not do even better.
Note the fins behind the charge controllers.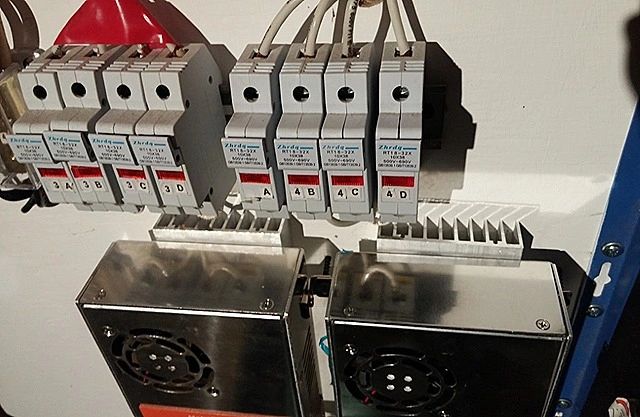 I removed the old screws, smeared some silicone heat sink grease (available online or at an electronics store) on the heat sink, wedged it behind the controller and snugged down four new, longer, screws.  That's all there was to the first one, so I did the second.  In no time the controllers' internal temp dropped 14C or 25F. 
I suspect that simple spacers would do about as well.  This afternoon, after a thundershower, it was only 98F in The Shed and I noticed that the fans were not even running.  I think I will watch this a few days and try it on the others.
If your mounting panel is metal, then you already have temperature dissipation help.  For anyone else, this is a good, cheap mod. Now as to why I was arranging panels in the hot sun, it isn't just cooling down the equipment I am working on.  Nope, I am continuing the quest for solar powered a/c.  Early small scale tests have shown promise (mostly meaning I haven't started a fire) so I am making room to dedicate 8 to 11 modules to running a conventional a/c on solar with no wires going into the house and only three going into the outside cabinet.  Watch for that.  It may take a while to get all the details ready for you, but the mod will work in heatpump season, too. 
I do have some tried and true solar a/c that I wrote about in the blog.  That may have disappeared when the blog blew up, so we will try to get that reposted.  I am running BOTH of my 30 year old Rheem central air systems and most of my other circuits on a single 5kw inverter, and it isn't that hard to do.  Watch for it to reappear if you can't find it.
–Neal