In recent news, some solar farm projects have been rejected for environmental reasons! Bear with me a while.
In 1815, William McVoy petitioned the Spanish governor for a grant of land at Chinmele.  The grant was first denied because that area was listed as Indian lands.  McVoy's countered, "What Indians?"  The Indians had seen the Spaniards, like McVoy, moving up from the south and the Americans moving in from the north, with Andrew Jackson just being an overall pain, so they had left Chinmele.  McVoy got his grant and set off a land rush over the next 5 years.
Among the restrictions on a land grant, usually 800 arpents or several hundred acres, were that you would keep the land for yourself, you would inhabit and you would cultivate within two years.  That's the deal Juan Malagosa agreed to when he got a grant at Chinmele in 1820.  Almost immediately, he "flipped" the land to American Andrew Mitchell.  Methinks this was a prearranged deal.  Everybody knew that Spain's grip on La Florida was slipping and by 1821, Florida was welcomed to the USA, where it would remain for 40 years.
Andy Mitchell built a mill and seemed to do well, cutting timber on the public land above his mill.  The thing about trees is that when it rains, the leaves soften the impact of the rain drops and the leaves on the ground act like a sponge.  Water is absorbed into the earth and aquifers are replenished.  Andy's mill did well until a big rainfall came to the rolling hills above the mill and the runoff rushed down and blew out his dam.  Some dam failure modes make it impossible to rebuild.
Fast forward to the 20th century.  1948.  Chinmele is now known as McDavid, Florida, and Claude Welch is building a mill just downstream from Andrew Mitchell's.  Claude was a real go-getter, one of the first in the area to have running water (from a water-powered pump) and electricity (from a Delco-Light).  The gristmill down the road in Bogia was closing, so Claude bought the turbine and stones from the Franklin Mill up in Brewton, Alabama.  I'm guessing Claude liked his cornbread made with fresh meal.  Everything was going well with the new dam and the mill house was constructed.   However, up on the hill, Florida Pulp and Paper Company, new owners of the land, clear cut all the pines up there and the rains came.  Once again, Mitchell Creek flooded and blew out Claude's new dam.   It was a small breach, but too expensive to repair and today there is barely any sign of it.  Are you starting to see a pattern?
Fast forward again to the 21st century.  Next Era Energy wants to build a solar farm on the hill.  Surveys, studies, archaeological assessments and environmental reviews all pass muster and the trees are all cut off so that 600 acres of solar panels can be installed.  And then it rains…
It has been a while since anyone has built a dam, but every time it rains a river of mud flows down Bogia Road toward the Baptist meeting house.  Drive carefully.  Next day, the bobcats come out (the stubby metal kind) come out and attempt to drag the lost acreage back up the hill.  Grass is planted, terraces are formed and hay bales and mud fences are staked out.  Eventually they'll get it under control.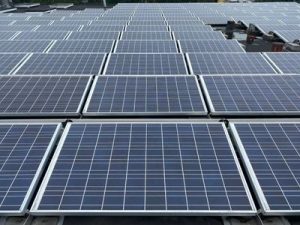 So, you see, there can be environmental consequences of trying to save the environment with solar.  Since the Cotton Creek plant was put in, two more have been placed in our county.  That's 1800 acres of rolling hills lost to agriculture and forestry and now needing constant attention until the erosion is under control.
Now, I am all for solar.  I have my solar and I have a financial interest in Next Era, but I think we need to be careful.  One study I've seen declares if we just cover roof tops with solar we'll have enough to go around.  Amazon, WalMart and other companies with big stores and distribution centers are adding solar to their roofs at no additional demand on land.  How about parking lots?  A lot of people just leave their cars running to keep them cool while shopping here in Florida.  Imagine having the parking lot at WalMart or Home Depot shaded with a solar canopy!  Canals are being covered with solar, with the added benefit of reduced evaporation.  There are plenty of ways that solar can be deployed without taking over croplands or causing environmental problems.
There has been a huge rush to deploy solar and I think the rush is  a big part of the problem.  Solar and wind only provide about 20% of US power, so hopefully lessons will be learned from these early installations will be applied to improve things in the future.  And localities that have banned or limited solar projects can get the power they need without causing havoc.–Neal
P.S.  Paying attention to history can help avoid making the same mistakes over and over again, but it seems history has been on the back burner here in Chinmele, 32568.  My cohorts and I have been on a documentary and archaeological quest for the history of this little town.  Pass by on US 29 and about all you will see is the church, Post Office, the firehouse and the store.  We've found railroads, sawmills, potsherds and lithics, cemeteries, a camp meeting ground, a quarantine camp, hotels and remnants of Andrew Mitchell's occupation.  In the early 1960s, a gentleman was building a house on the edge of the Hot Pond, aka Lake Chinmele, when a group of Indians arrived by canoe, went to a specific spot and dug up the ashes of their ancestral council fire.  They left, never to be seen there again.  About a century and a half after McVoy declared the land abandoned by the Indians, the Creeks apparently made it official.  Yeah, I know.  Sometimes John talks about fish in his blog, so I get to talk about history every once in a while.