John tells of the glories of swimming with the fish in Miami's bays. Then he tacks on something solar. It'll be a while before I get back into the water, but I have some solar sea stories.
I built an electric boat and it was great, but I couldn't travel with it. I could easily do a 20 mile day trip, but I wanted to go places and explore. That is how Sun King came about.
It was a 16′ Luger Leeward hull stretched to 20′ to give it a more efficient stern. After much experimentation, I installed a single 80lb thrust motor, based on a Minn Kota troller. I outfitted it to do sidescan sonar bottom surveys of our local river. I'm a historian, among other things, and there's a certain amount of history down there. It is a great boat for exploring rivers.
Did I mention that the electric motor got its power from 6 270 watt "B" panels? So there you go, a solar boat. Infinite range.
The first time I tried my river boat in a bay was nearly the end of me. It sits very low in the water and sometimes bay water does not sit low. Don't even get me started on the Gulf of Mexico! Eventually I got things sorted and learned to deal with the limitations and I took some trips. Then I got this wild idea.
Have you heard of the Great Loop? Look it up. I know with Sun King's limitations that trip is a nonstarter. However, there is what I call the Mississippi Loop or the Short Circuit. Essentially, the state of Mississippi, along with bits of Alabama, Tennessee and maybe some others, is an island!
You don't believe that, do you? An island is, by definition, a parcel of land you can drive a boat around. You can drive one around Mississippi. I've done it.
I got in my river and went down to Pensacola, where I turned right and proceeded westward. I turned right again at Mobile and went up the Tombigbee River, which took me on up to Paducah, Kentucky.
The sun didn't shine every day and on one stretch it went a good 4 days of cloud. I reckon I nailed the balance of solar power (1620 watts), battery capacity (350 ah) and motor load (625 watts at cruise). I did not go fast, but I went steady, often making 50 miles and maxing at 100 miles.
At Paducah, I turned to port (left) and went down the Ohio River to Illinois, where I turned left into the Mississippi. Yeesh. I was not prepared for the next thousand miles, but I survived.
Most boaters doing the Great Loop go south the way I come up. They don't go down the Mississippi because there are only two places they can buy fuel, at Memphis and Greenville, before they make it to New Orleans. A solar boat doesn't need fuel. I was doing something with my dinky 20′ solar boat that most boaters cannot do!
So here I am on the outskirts of New Orleans, docked behind the High Tide Bar and Grill and Marina and Convenience Store. I skirted the 12,000 hp pushboats, a hurricane and a tornado, but could I do the Gulf of Mexico? With this boat you want smooth water. Barring that, you want a wind on the stern and the boat will act like a surf board. Weather was lining up to go my way. It was going to be a matter of timing. I sought out local wisdom. I also sought flush toilets and real food. Noodle cups, MREs and Vienna Sausages are sometimes not enough.
I dined on Cajun seafood and monitored a discussion moderated by a young lady on where men could go in New Orleans for certain favors from ladies. She had everyone's attention until she let slip that the aforementioned ladies were not actual ladies. Her audience pretty much lost interest after that and I looked at her more closely for signs of discrepancies.
I engaged in chitchat for a while with the guy next to me before being introduced to Rain Webb, the artist-in-residence. You didn't know that a Bar and Grill and Marina and Convenience store had such, but this is New Orleans, mind you. Before he moved on he informed me that I was to meet with him aboard his sailboat later that evening. Oooookay. I don't believe I have ever had such an evening of discussions on such a broad range of subjects. I really enjoyed it.
The next morning, Rain brought me a sack of avocados and oranges, to improve my diet on the final days of my voyage. He gave me a benediction, of sorts, informing me he was sending angels with me to protect me on my voyage. I thought that a bit odd, but this was New Orleans.
We checked with the cook, a former shrimper, who thought conditions would be good. Rain got in his kayak to guide me on a tour of the nearby fort and then guide me to Lake Catherine, where we parted company.
It was a short trip to the Pearl River, where I holed up waiting for the wind to align. The shrimper I met in a lock had called the waters ahead, "The Chopper." I didn't want to get chopped.
Finally, it was time to get underway. The wind was just right for the course I needed to sail, but I had to get around a point and had to tack back and forth to keep the boat dry-ish. Once around the point I was set. The seas were not dangerous, but they were not pleasant, either. After a while I realized that I was going to be out of luck if I wanted a cup of coffee or a hot meal. The galley was forward and I could not let go of the boat for a second. Fortunately, my custom was to rack up bottles of water and tea before getting underway, plus I had MREs behind the seat and Rain's sack of fruit. I did fine, except for lack of coffee.
In the tedium of it all, it is sometimes difficult to stay alert and on course. I felt the boat bump something, which jarred me alert. I felt the bump a few more times and then was delighted to see I had been joined by a pair of dolphins! I decided they must be the angels Rain had sent with me. I was alert the rest of the way to Biloxi.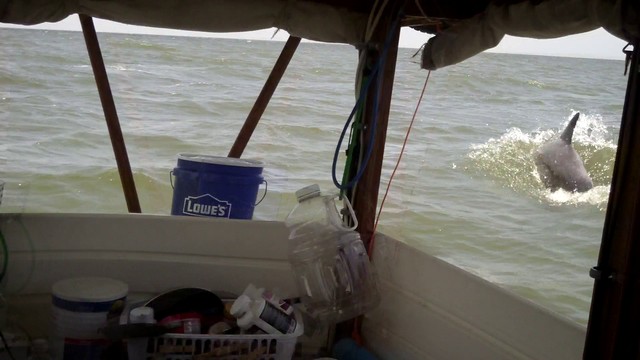 The next morning I got underway before daylight, leaving Deer Island around 0500, this time with better provisioning. I made good time to Mobile and owing to changing weather decided to charge ahead across Mobile Bay, which can be treacherous. Believe it or not, my angels were with me again, keeping me alert as night fell and I safely made it to Oyster Bay, a large puddle in the next county. That day I voyaged over 18 hours, dropping anchor after midnight. Solar powered! I know people with power boats that won't or can't travel that far in a day. Best of all, there was still enough power in the batteries to run the microwave to make supper that night and breakfast the next morning. I was on the home stretch and it seemed I no longer needed the company of angels. It would be another day and a half before I beached at my home port of Molino and called for the trailer.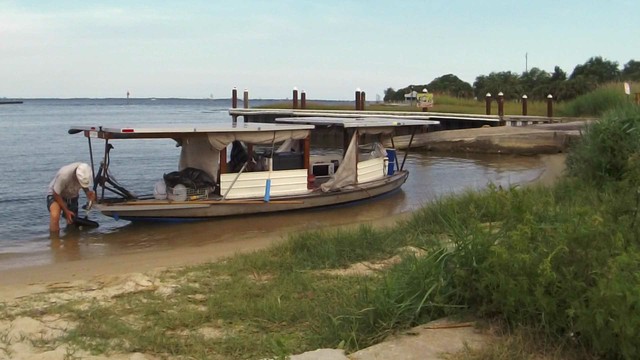 And that was the end of forty-four days in the sun. A few years later I had a transporter gig in New Orleans. I took the scenic route home and stopped by the High Tide. The place was abandoned and I was disappointed. I'd like to see Rain again, sometime, and tell him about his angels.
–Neal